Peace-Of-Mind comes standard when you service with us.
Timeliness, competitive pricing and safety are a given every time we service your vehicle. Maybe that's why our customers are saying such good things about us. But don't take our word for it, check out their reviews.
At Hall | MileOne Autogroup, we are happy to help with sales, trades, and service on a variety of great vehicle brands and models. With locations spanning from Elizabeth City to Chesapeake, and many in between, we are ready to help Virginia residents with all of their automotive needs. Come see us today for a real Hall family experience.
Why it's important to keep up with vehicle maintenance:
 Why it matters:
 - Better condition = better trade-in value
 - Vehicle efficiency
 - Safety on the road
Whether you recently purchased a new Ford car or have clocked 50,000 miles on your current vehicle, you'll want to protect your investment and avoid extra vehicle depreciation as much as possible. Keeping your car in the best condition you can will go a long way toward making back some of the funds you invested in your car when it's time to trade for a new one. Routine oil changes, tire rotations, alignment checks, and tire replacements (along with other routine maintenance recommended by our professionals) can also help your vehicle run more efficiently, which will also help you save money. Keeping a smoothly running car may require less parts expenses, help it retain better gas efficiency, and can help prevent expensive major repairs. All of this is not to mention the peace of mind you can have knowing your vehicle is not about to break down at any moment. If you're looking for a Virginia car dealer to help you make the most out of your vehicle, come to Hall anytime.
Our service centers:
 What we offer:
 - Many convenient locations
 - Service many brands
 - Trained technicians
With Hall, you can have easy access to reliable, efficient, and affordable service centers all along the Virginia coast. Take a look at our complete list of our collision and service locations, see which one suits your car and location, and then contact us for an appointment. All of our locations offer online scheduling, convenient hours, and trained professionals that will ensure your car stays in top shape for the duration of its life. Many of our locations also include shuttle services, free Wi-Fi in the lounge, and complimentary coffee among other great features. At Hall, we sell and service over a dozen great car brands, so there is a Hall location for everyone.
Overall, car maintenance may not exactly be a fun thing to do, but it's highly necessary to protect your investment. And if you need to do it, you might as well do it with the dealers you can trust for affordable, efficient, and effective service. For all of your service needs or if you're interested in pre-owned or new cars for sale, come visit one of our Hall dealerships today.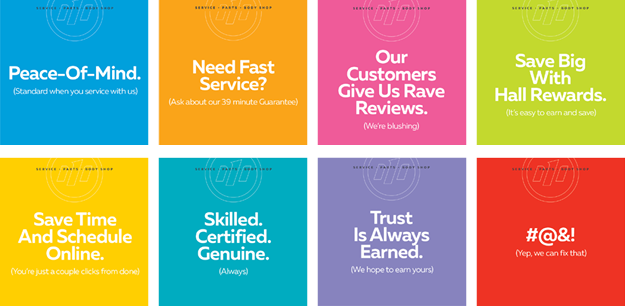 Your privacy is important to us. Hall | MileOne Autogroup takes your privacy seriously. Please
click this link
to read our privacy policy.