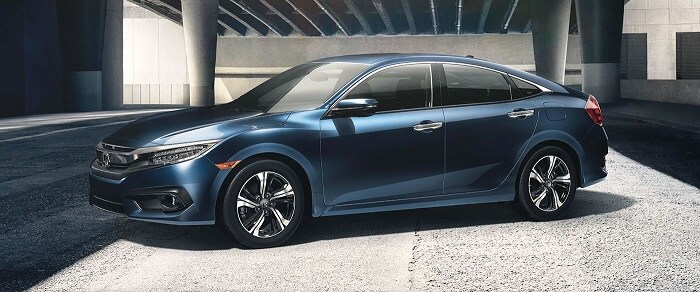 Here at Hall Automotive, we know that shopping for a new car is a balancing act. You have practical concerns, like safety and efficiency, and whether or not the interior has enough room. You've got to think about the future, considering how this car is going to hold up over the years. And then there's the fun stuff. How does the car look? How does it drive? Most of the time, the car you settle on has some comprises, giving up some of what you want in order to get what you need—and what you can afford. But sometimes it's nice to cut loose and get everything on your wish list—while still staying within the confines of your budget. That's where the 2017 Honda Civic Sedan comes in. And lucky for you, we've got over 150 models here at our dealership near Chesapeake, VA, each one waiting for the right driver.
A bold, aggressive face and sharp, sophisticated body lines let you know right away that the 2017 Honda Civic Sedan is built to cut through the air. This is a car that's truly at home on the open road. And with a fully independent suspension, up to 174 horsepower, and two transmission choices, you'll feel right at home too. Regardless of whether you choose the standard 158-horsepower, 2.0-liter normally-aspirated engine, or the turbocharged 174-horsepower engine, you can count on getting the most out of every tank of gas. That's because the Continuously Variable Transmissions (CVT) offered for every 2017 Honda Civic Sedan have been optimized for each available engine, providing plenty of power without sacrificing fuel efficiency. Remember what we said? With the Honda Civic, you can have your cake and eat it too.
To really get a feel for the 2017 Honda Civic Sedan, you need to get behind the wheel yourself. Contact Hall Automotive today and schedule a test drive. And don't forget, we've also got plenty of 2017 Honda Civic Coupe and Hatchback models available.