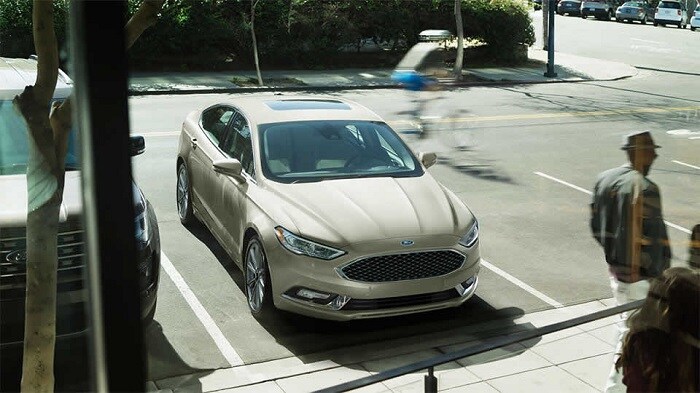 Are you looking for the right sedan for your on-the-go family? Head into Hall Automotive today and take the 2017 Ford Fusion for a spin. And you don't have to take our word for it. This standout Ford sedan took home the 2017 MotorWeek Drivers' Choice Award for Best Family Sedan.
When you're jetting around town to get everyone where they need to go, your mind is racing—which is why it's nice to have intelligent driver-assist technology on your side. Park Out Assist is one of our favorite features here at Hall Automotive. Parallel parked in a tight spot? When it's time to navigate your way out of that tight squeeze, press a button in your 2017 Ford Fusion, and Park Out Assist will kick in, providing instructions on shifting, as well as moving forward and back, while it steers you out. Side Parking Sensors help you get into a parking spot in the first place, providing a warning when you get too close to objects.
Cruise control is a great feature in any vehicle, but unfortunately, shifting traffic conditions often make it difficult to use effectively. Once again, the Ford Fusion provides some much-needed assistance. A radar sensor allows this Ford sedan to detect a traffic slowdown up ahead. From there, the vehicle can brake and accelerate automatically to keep pace with traffic. Add in stop-and-go, and your Ford Fusion can bring itself to a complete stop if needed, and then start up again when traffic begins to move.
Safety is also a top priority in the 2017 Ford Fusion, which is the first vehicle in its class to offer inflatable rear safety belts. And Pre-Collision Assist can help keep you out of harm's way so that those safety belts will hopefully never have to inflate.
To see more of what the 2017 Ford Fusion can do, head into our dealership near Virginia Beach, VA with your family and take a test drive!